Discover: Centennial Cuts
"We take great pride in being an all-colorado brand"
- Luke Larson, Centennial Cuts
Tell us about yourself! What's your background and what do you do?
Our family has been in the cattle and ranching business for 2 generations. We have always sold our beef into the commodity market except for the very best which we put in our freezer. We finally decided to offer this "very best of what we produce" to Colorado consumers under our own private label - Centennial Cuts. My name is Luke Larson - I am the youngest of 3 brothers. My wife Kate and I live on one of our family ranches called The Hart Ranch which is 26 miles east of Walsenburg (Southeast Colorado). We love being on the ranch which is filled with canons and cedar trees. We have two boys - Ledger ("Cricket") (4) and Kellan ("Hoss") (1). They love being on the ranch as well as hopping along with Dad to farmers markets in the summer. Ledger calls our product "JUICY BEEF"!
How did you learn your craft? Tell us about your first finished product.
We love the ranching lifestyle and are constantly learning from our neighbors and others in the industry. I attended Colorado State University in the mid 90's. I studied animal science at CSU and focused many of my studies on meat science. That background has helped in creating a Craft Beef brand, but most of what we have learned has been passed down from generations of cattlemen living on the land and caring for livestock.
Where does the name of your business come from?
Centennial Cuts is named after Colorados' nickname - the Centennial State (nicknamed because Colorado became a state 100 years after the declaration of independence was signed). We take great pride in being an All-Colorado brand - our beef is all raised in this great state from birth to harvest. All of our smoked products are made here in Colorado as well - by a family owned meat shop in Sterling, CO. Even our labels are made here in Colorado.
How long does it take to make your product and what's involved in the process?
Most of our cattle are between 15 and 20 months of age when we harvest them. Our cattle are grass raised and finished on locally grown corn and distillers grains (spent grains from Breckenridge distillery). The corn and distillers grains give our beef a great taste and juicy experience that our loyal customers really love. After harvest, our beef is aged a minimum of 14 days to ensure a tender product. We cut all of our steaks 1.5" thick (unless ordered ahead of time differently). Steak lovers absolutely rave about our ribeyes and New York strips. We also specialize in handcrafted beef sticks and summer sausage which we sample at all the markets.
Where does your inspiration come from?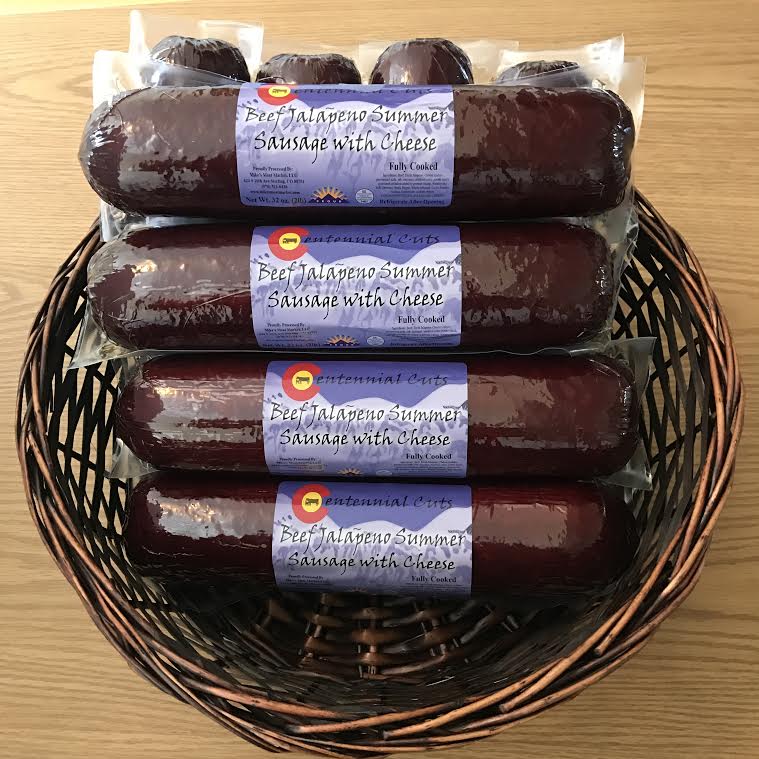 "We love the ranching lifestyle and are constantly learning from our neighbors and others in the industry"
Premium steakhouses like Elway's, Del Frisco's, and Morton's. We wanted to provide a steak to our customers that they can take home and replicate the steaks in these great restaurants. Our smoked products (beef sticks and summer sausage) came from a desire to offer our customers a snack high in protein with convenience and shelf stability. Colorado has so many things to do outdoors and our smoked products are the perfect snack/meal replacement to bring along on these outings.
What's your favorite product that you've created?
Our Jalapeño Cheese Summer Sausage, and our bone-in Ribeye, and our NY Strips, and our skirt steaks, and… sorry, I could go on and on here!
What question do you get asked the most at pop-up markets?
"How do you raise your cattle?" Answer: come visit us on the ranch and we will show you!
What's something unique about you that most people don't know (or wouldn't guess)?
I'm a diehard Bronco's fan.
What's your favorite beverage to sip on?
Bourbon - on the rocks.
What's up next for Centennial Cuts?
We are working on some Beef Jerky products as well as an All-Beef Frank (hot dog).
What's your favorite cut of beef that people may not be aware of?
Tri-Tip. It became popular in California and is great on the grill, about 3 lbs typically. Slice Tri-Tip thin and don't overcook it - it has so much flavor and never disappoints!
Catch Centennial Cuts every Thursday at Park Hill Farm & Flea
and Friday's at Friday Night BAZAAR - mention this post for a free beef stick!